This has been a little more difficult for me to do and so this is not bang up-to-date. Just to put you in the picture, back in mid-September, the pupils at Riverbank were treated to an assembly on Road Safety. This was a Road Safety lesson with a difference as it was presented by a magician.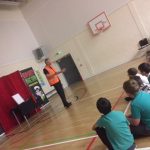 All his magic tricks linked back to keeping ourselves safe on the roads. The four words we had to remember, throughout the show, were STOP, LOOK, LISTEN & THINK!
This novel way of reminding children about road safety was very much appreciated by the pupils. During the show, our magician asked for volunteers from the audience and I was able to capture one of the magic tricks which was performed. To view the video, you should click on the link below but you need a password to view it. If you don't have the password you can ask in the school office.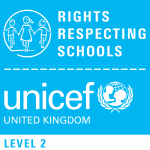 UNCRC / RRSA
Article 28 – Every child has the right to an education……