We have two Primary 3-4 composite classes and the P4s from these classes have a 10 week block of swimming lessons at the moment. When the P4s go swimming with Miss Miller the P3s stay behind with Mrs Smith. The P3s do some maths or literacy work but Mrs Smith always has a special treat for the P3s in the shape of some art or craft.
Recently, they have looked at the work of two famous artists; Vincent van Gogh and Wassily Kandinsky. van Gogh was a Dutch artist and Kandinsky was Russian. They lokked at one one of van Gogh's famous paintings called Starry Night. They even listened to Don McLean's Vincent song. They then looked at the work of Kandinsky and looked at his famous concentric circles work.
I think our P3s made a grand job in their study of two famous artists. Well done to you all!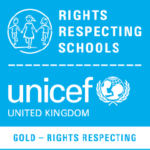 UNCRC / RRSA
Article 29 – Education must develop every child's personality, talents and abilities to the full.