It just seems like a few days ago that I was presenting some of the work which had been carried out during our 8th week of digital learning……. Maybe that's because it was just a few days ago that I posted that work. I'm pleased to say that I remain connected…digitally….. to Team Riverbank and I'm in a position to share the work from the 9th week of digital classroom.
I think everyone is getting a bit stir crazy and have itchy feet, we want a bit more freedom, but we must keep following the medical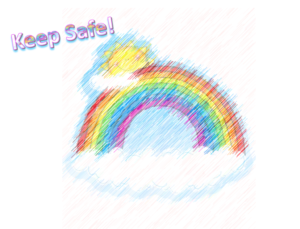 advice to keep the level of infection of the Covid 19 virus as low as possible.
Over the last week we have received a great deal of information from both the Scottish Government and Aberdeen City Council about what a return to school may look like. Many things need to be discussed and put in place before this can happen. As soon as we have firm details of what is going to happen, we will let you know.
School report cards will be sent, by email, to the parents and carers of our pupils at the end of this coming week. Unfortunately, we don't have a personal email address for all of our parents and carers. If you know that you have not supplied us with an email address then, please, contact us and supply us with an email address. You can contact us using your child's email account if you don't have one. If you have changed your email address then, please, let us know so we can update our records and ensure you receive all relevant information; whether that be about report cards, return to school, school uniform or any of the many information bulletins which we need to send you.
On a similar vein, we have discovered that a number of parents and carers have changed their phone numbers and even address, but have forgotten to let us know. Again, we ask that you ensure that you advise us of any change to your contact details. To stay in touch with Team Riverbank you need to keep us informed!
Now to get down to business….the work of our pupils during Week 9 of Digital Learning!
This week I'm going to start us off on our stroll through the Riverbank Gallery with an item that arrived last weekend. By the time I picked it up I had everything in folders ready to use for Week 8 but I'll start off Week 9 with the following….
P6N – Mrs Spry and Mrs Ng's class.
The class had been looking at reading and displaying TIME, so Holly Robertson designed her own game for aiding in the telling of time.
Our second offering this week comes from P5B – Miss Bush's Class.
Miss Bush's class were busy doing book reviews. I have a lovely review on Dog Days Diary of a Wimpy Kid. I have loaded this with a link, please, click on the link to read the review. Unfortunately, I wasn't told who wrote the review.
Review of Dog Days Diary of a Wimpy Kid
Two pupils gave us their reviews by video.  The first is a review of Harry Potter & The Prisoner of Azkaban.
Our second review is of Donkey Derby by Lucy Daniels.
The class also carried out work on portrait painting, helping to make lunch and writing instructions. Enjoy the view!
First Course is the Portrait Painting.
The Main Course and Dessert is a Recipe for Tuna Salad and a 'Here's One I Made Earlier' photograph. Yum!
Our next contribution comes from Mr Duarte's Primary 3D class who have been very busy learning about Fractions. They have looked at finding fractions of shapes as well as fractions of whole numbers.
Next up we have Primary 1C who work with Miss Coyle and, their EYP, Miss Howarth. We can always expect unusual and exciting photographs from P1C. This week they have worked on Construction – making different buildings using the same number of bricks! They carried out a Draw, Make, Show & Tell on their Favourite Food! The extended their practice on Fine Motor Skills. As the weather took a turn for the cooler and windier, the pupils made Kites for a Breezy Day! In hope of a return to the fine warm weather, they also learned How to Make Ice Lollies and dare I say there was a Miss Howarth in there having made her own one. Finally, they showed me some of the lovely messages, pictures and ribbons which have been displayed on the school fence. I hope you enjoy seeing their work.
Moving on to our next contributors: Primary 4U – Mrs Stephenson's Class.
During a Google Meet the pupils did some art work and they drew a Gregosaurus. Rob from RADS had a hand in this…I hope poor Greg, one of the RADS coaches is not offended.
Mrs Arqued's Primary 1 A Class sent me lots of work this week. They have been very hard working.
Christian was busy with Maths practising his Doubling. He used some ladybirds to help him. Another industrious young pupil decided to use some Loose Parts…or maybe loose change to practise revision on the Alphabet!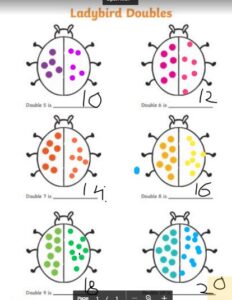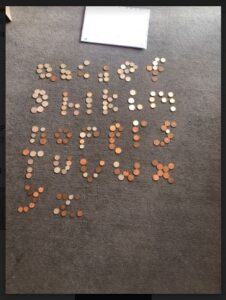 Next, P1A offered me some lovely posters they'd made. I thought that the theme for the posters was so kind and thoughtful. There mission was to create a poster welcoming the new Primary 1s into Riverbank. They could tell what they had enjoyed as Primary 1s and what the new pupils would love.
Our busy P1As also carried out work on phonics, where they revisited the 'S' sound as well as all their letters of the alphabet. I'm sure you'll all be amazed at the items that have been used to make the letters and words.
Miss Moreton's Primary 3F class are next up. Amelia read a story for a Google Meet and took her time to read all the words carefully. Unfortunately, reading a whole book, even a short one, makes for too big a video to place on the website.
The class also carried out work from CLAN's Little Lights programme of work. They read the Lighthouse Keeper's Lunch and then made up their own menus for the lighthouse keeper. I think his wife will be out of a job when he sees what our pupils have put on the menu for him.
We move on, now, to Miss Miller's Primary 5B.
Some of Miss Miller's boys were very keen to upstage Joe Wickes and provide their own workout. I received three videos, unfortunately two were too long to upload. It's maybe just as well we can't show those two as I was exhausted just watching Oskar and Dominykas. Our third chap worked on his eye hand coordination.
We also have two fabulous stories from P5B. Chloe wrote a story about a mysterious house and Amelia wrote her story about an old tree house which is a magic portal. I wonder where it takes you? Again, I have created a couple of links so that you can read these stories.
The pupils in P5B also continued with their work on habitats and animal adaptations.
Finally from Miss Miller's Class, they were honing their drawing skills and provided us with someone getting ready to draw and what he finished with, a young lady with a love of cars, it would seem and an imaginative super monster. A right good mixture.
We move along now to Primary 3C – Miss Cody's Class who have carried out some 'blended' work in maths and art and craft! What, you are asking, could that be? Symmetry! The work belongs to Austin, Jacob, Pijus, Marhama, Luke and Vanessa! Well done to them all.
French is the order of the day,now. Mrs Henderson, as I'm sure you all now know teaches French throughout Riverbank. This week she wanted to let me know that the P1s had worked very well. They read Tout le Couleurs by Alex Sanders and sang Arc-en-Ciel by Alain Le Lait. These items are about rainbows and she sent me three lovely rainbows inspired by their French work.
We are back to Primary 2 for the work of Mr Flanagan's P2F Class.
They were inspired, this week, by the flight of the American astronauts to the International Space Station in the Space X Dragon. They made drawings and wrote stories about what it would be like to view Planet Earth differently.
Mr Probart's Primary 6P class passed on the work of Scott Ward who was doing some tricky maths.
We're back to Primary 1 with Mrs Lade's Class. They too had been inspired by science and space. We were lucky to receive work from Milana, Rio, Reuben and Lucas. They looked at the shape and colours of the Earth and talked about why the Earth is those colours and then they used that as inspiration for their art work.
Second from last we have an excellent story from Klaudia in P7M – Mrs McGregor's and Mrs Robb's class. It's called Trapped in a Cave and, once again, I have included a link so that you can read this story comfortably.
Trapped in a Cave by Kaludia P7M
Finally, last but not least: Mrs Smith's Link Room pupils were also hardworking.
The boys provided us with origami and stone painting. One chap gave us a video of his origami work and of him making pancakes. I love pancakes and I didn't receive any. Boo Hoo!
Making Pancakes! Mary Berry eat your heart out!
Just in finishing off a few little snippets of gossip.
Our Active Schools Assistant, Keiron Scoular has been very busy. He has made a number of videos which our pupils can use to help keep fit. Thanks to Keiron for doing that for us.
I would like to thank our PSAs who have been very busy doing their digital learning…online training…and also for their continuing support of the teaching staff and pupils especially during Google Meets!
Once again, all of us in the Google Classrooms would like to thank all parent, carers, relatives and friends who are supporting our young learners during this trying time!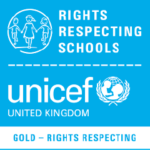 UNCRC / RRSA
Article 3 – The best interests of the child must be a top priority in all things that affect children.
Article 24 – Every child has the right to the best possible health. Governments must work to provide good quality health care …..
Article 28 – Every child has the right to an education.
Article 31 – Every child has the right to relax, play and take part in a wide range of cultural and artistic activities.